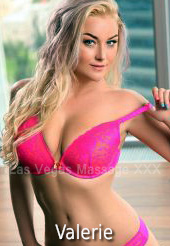 She's First Class
Deep. Tissue. Massage. Did you just shiver thinking about it? How long has it been since the last time you really splurged and let yourself get your body worked over by a gorgeous pair of hands? I am Valerie and I am a beautiful blonde haired girl with great big green eyes who lives in the one and only Las Vegas. If you are finding your way to the magical strip any time soon, why not stop in and really spoil yourself with a deep tissue massage? Better yet, why not let me come to you for this outcall massage and work my magic without having to leave your hotel room?
I love going into people's room and teaching them the art of massage. There are so many people who claim they will give you the best deep tissue, but once you see how deep I can get, you are not going to be able to go to anyone else. You are going to be spoiled by how deep and hard my hands can work into every single ache in your bones. I have years of working on backs in my book and know all of the right spots to really get you going and feeling good while you are in my home town of Las Vegas.
I especially love to have these special interactions with couples. Most people don't think about calling outcall massages for their spouse and themselves, but why not? You can invite one masseuse over or two, we can share clients no problem. You will get double the fun, double the deep tissue, and your partner will be so glad to have the experience with you. We can even do a little tantra magic so that once the massage is over you are open to any and every experience that may come your way in that very same bedroom!
Let me teach you how a real deep tissue massage is supposed to be. After all, you aren't in Las Vegas every day, so why get an everyday run of the mill massage? Why not have something better, that will really leave you relieved and that you could even share with your special someone? Call me today!
This email address is being protected from spambots. You need JavaScript enabled to view it.