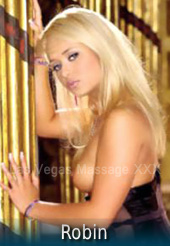 Nothing Could Be Better
You work hard. You spend your days toiling away for a boss who could care less about you. You go home and your wife or partner isn't respectful of the hard day you have had. Maybe you have kids who want all of your attention when you get home. Maybe you go home to a lonely nest and feel the weight of loneliness on your shoulders every day. No matter what your stress is, it is bogging you down and you know what, it is time to work it out!
I'm Robin and I can't wait to be your personal outcall massage therapist you go to while you are in Las Vegas. Sure, you have to come all the way to Las Vegas for my services, but you will love my hands so much that our tale will end in the happiest of endings; you leaving a wholly satisfied customer. I might be good with my hands but I am sure it does not hurt to see my profile picture. I am a natural blonde with great eyes and an even greater body. I know how to keep myself in shape and would love to teach you the ways of my body.
Your body is a temple and you should treat it as such. I want to help you with that. You come to Las Vegas to be treated like a king and I want to be a part of that experience. I can give you the deepest tissue massage you have ever seen or I can really spice things up with a fun tantra session. You pick! We can even do a crazy mix of the two if you are feeling adventurous. Or we can skip both and just do a little naked massage and keep it nice and simple. The possibilities are surprisingly endless when you have a good imagination, and I've got a great imagination.
Let me work out the stresses in your life with my hands. Leave your job, your family, your life behind. The second I walk into your hotel room it is you, me and a bottle of lotion that is going to make you feel spectacular in no time. I promise. Call me today and we can set up the next visit to Las Vegas with a wonderful outcall massage included. You will thank yourself for the royal treatment.
This email address is being protected from spambots. You need JavaScript enabled to view it.