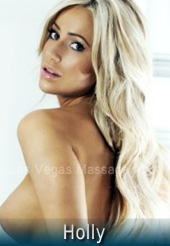 Your Dream Come True
Hello I am Holly and I am a sexy babe who is waiting to rub my hands all over your naked body during our naked massage session! I am very skilled at giving massages and if you are looking for a deep tissue massage then I am the hottie that you have been searching for in Las Vegas because I have what it takes to make you happy!
I also love giving outcall massages because I find it is easier for my clients to completely relax and destress in the privacy of their own settings whether it is in your own home or in your hotel room while you are just visiting Las Vegas. I will make sure that you are given that massage that you really want and I will make sure that you are pleased by the end of our session together!
I really enjoy giving mutual massages as well as naked massages because it allows me to feel closer to you while we are working on releasing your stress! I am not embarrassed by my body and I don't want you to be either because I think that you get a much more relaxing and enjoyable massage while lying on the table naked instead of covered with a towel!
I have been working in Las Vegas for several years now and if you are looking for a good time and an unforgettable Las Vegas adventure be sure to give me a call and I will make sure that you are as relaxed as possible for the rest of your Vegas vacation. I also know a few of the hot spots throughout town that you want to visit and that you want to be seen at so make sure to ask and I can point you in the right direction for the best Las Vegas visit possible! And after a long hard night out on the town and you wake up sore and stiff be sure to get ahold of me again and I will be right over to you to give you an outcall massage to release all of that tension so you can go out and do it all over again!
This email address is being protected from spambots. You need JavaScript enabled to view it.