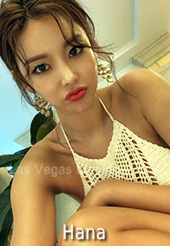 Put Yourself In Her Hands
Well hello there. My name is Hana and I am so happy you stopped by my humble profile! If you are here you must be looking for some helping hands to help cure you the next time you are in Las Vegas and I would be honored if you let those hands be mine! They may be small, but it's not the size it's how you use it, right? Come visit me and my small hands in Las Vegas and I can prove that size doesn't mean a thing. I'll let you validate my claim however you see fit.
I am a very special masseuse because I have actually worked as a massage therapist in a spa before, so I have the real knowledge behind what I am doing, not just really good luck. I love to give deep tissue massages to people who need them and am more than happy to do some tiki or tantra for those who are more on the adventurous side. I can explain to you what I'm doing and help you learn how to better take care of yourself, or you can just enjoy my hands as they work your body over from head to toe. That's right. I do the whole thing, and I will even do naked massages if you really want me to. The only thing i do not do is massage with women. I don't mind lady skin, but I really prefer to show off my strength and skill with men. I feel that I work best when I have a hard working man beneath my hands, sorry ladies. Nothing personal.
Experience, beauty, and a humble attitude. What more could you want from the person who is going to be taking care of all of your physical ailments? There is no one quite like me in Las Vegas and you are going to love having my hands all over your body, I promise. Call me today and let's make some memories. Your room, my table, and a whole lot of oil is bound to inspire some great fun and leave you feeling one hundred percent amazing.
This email address is being protected from spambots. You need JavaScript enabled to view it.