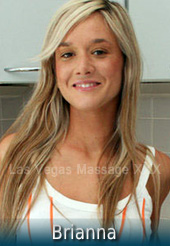 I Love To Dance!
Hey there! My name is Brianna and if you are looking at this profile then you must already know some of the amazing benefits to having your own personal masseuse at your fingertips! What a smart person you must be! A lot of people do not think of pampering themselves in general, let alone when they are living the high life in Las Vegas, but if you have stepped upon this profile then you are already miles ahead of the curve and a great human being, in my humble opinion!
So what makes me so special? Well I love to be an outcall massage therapist. There are so many great people to meet in Las Vegas and one of the most intimate and wonderful ways in which you can really get to know someone is by touching their body. It might seem like a weird reason to love my job, but I really love being able to help people while getting to know about them. Why are your muscles so sore? Is it your job, or is all that stress? Tell me all about it as your aches and pains melt away at the touch of my fingertips. Seriously. Even my fellow masseuses love to let me tickle their backs and really work out their pains. That's how you know I'm great at my job. Other girls love to let me touch them too!
Speaking of girls, unlike a lot of other outcall massage ladies I love to work with women. I especially love to do tantra, naked and mutual massages with women. I love to do all of the above with men, too, but there is something about lady on lady skin, especially when it is naked, that really makes the tantra work. Soft and supple it just seems to melt beneath my fingers, so if you are a woman looking to solicit a nice hard massage, do not hesitate to call me! I love to work with women and couples too!
So man or woman, call me the next time you are heading to Las Vegas. I would love to get to know what makes you tick and help you work out some of those aches and pains, emotionally and physically, along the way! Call me and let's get working on those tight muscles now! You will be so glad you met my hands.
This email address is being protected from spambots. You need JavaScript enabled to view it.