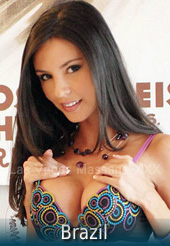 I'm Your Girl Next Door
Anyone can rub your back. Not just anyone can really make you feel…relieved. My name is Brazil and I cannot wait to be your own personal masseuse the next time you are in Las Vegas. Most people don't think of pampering themselves while they are in the sin city. They think of fun and party and excess, but what could be better than inviting a strikingly beautiful woman to your hotel room to strip you down, oil you up and make all of your problems disappear, if only for a night? What could be better than having the night of your life in Las Vegas with a beautiful girl, right?
I specialize in tantra massage. For those of you who do not know what tantra massage is, here is a little lesson. Trantra is the art of combining sexual energy with traditional massage techniques. What exactly does that translate too? It means that I get to utilize my natural sexual magnetism while rubbing your body down to create a one of a kind experience that you and your sore muscles are not soon to forget. It helps to awaken chakras within your body that would otherwise remain untouched by normal massage techniques. Las Vegas is a place for all kinds of wild and crazy behavior, so why not treat yourself to a new experience that can actually improve your health? Tantra can be used to improve circulation, help you learn better breathing techniques and relieve the blockage of energy in any part of your body all while allowing your body and mind to relax wholly. What could be better than that?
The next time you are in Las Vegas remember to treat yourself in every way, not just your lust and greed centers. Call me and we will take a tantra journey, relieving your tension while opening your chakras and allowing your body to open up in a more intimate way than you have ever experienced before. Call me and let's make your Las Vegas experience really one of a kind. You will remember this trip for years to come.
This email address is being protected from spambots. You need JavaScript enabled to view it.