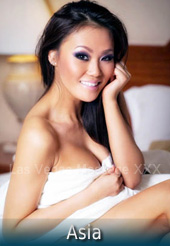 An Asian Lovely
Hey there handsome. My name is Asia and I would love to get my hands all over your tense body. My strong hands and graceful fingers know how to work out all of your knots. I would love to be the one to lay you down and rub you nice and hard, relieving all of your tensions the next time you are in Las Vegas. It doesn't hurt that I am a beautiful girl with brunette hair and dark brown eyes, either. You may be face down on my table, but wouldn't it be nice knowing a beautiful woman is on top of you, working out all of your stubborn kinks?
I can do all kinds of massages, from basic run of the mill rub downs to deep tissue massages and everything in between. No matter what kind of tension you carry with you into Las Vegas you will leave a more relieved man! I love to give fully naked massages, but will of course work with whatever my client wants from me. If you are not comfortable with full nudity then you do not have to worry about it, period. If you are really game I love to have my clients give me massages too! Mutual massages are the best and if you are willing to get your fingers all over my back then we will be quick friends. On special occasions I can even pull out my tantra massage skills and really amp up the tension in the room before alleviating it all from the confines of your sore muscles.
In my free time I love to play sports like volley ball and I love to go swimming. I am a very fit woman, but I love to work with men of all body types so please do not be shy. Las Vegas is the perfect place to relax, whether you are getting your body rubbed down or not. A lot of people come for the partying and forget to unwind, but if you give me a call I will gladly help you release all of that tension from your real life and expose you to the relaxing side of Las Vegas. Give me a call today and let me know where you hurt and how hard you like it and I will have you feeling like new in no time!
This email address is being protected from spambots. You need JavaScript enabled to view it.